Saturday, 23 February 2013
For Gillian's Reading Memories
see Reviews and Commentaries tab above
Saturday, 16 February 2013
Some Writers Say:
I write as straight as I can, just as I walk as straight as I can, because that is the best way to get there.
H.G. Wells

Keep away from people who try to belittle your ambitions. Small people always do that, but the really great make you feel that you, too, can become great. Mark Twain

Imagination grows by exercise, and contrary to common belief, is more powerful in the mature than in the young. W. Somerset Maugham

Writing a novel is like driving a car at night. You can see only as far as your headlights, but you can make the whole trip that way. E.L. Doctorow

Work is love made visible. And if you cannot work with love but only with distaste, it is better that you should leave your work and sit at the gate of the temple and take alms of those who work with joy. Kahlil Gibran

Art is not a handicraft. It is the transmission of a feeling which the artist has experienced. Leo Tolstoy
Becoming the reader is the essence of becoming a writer.
John O'Hara
So many writers...

Read, read, read. Read everything—trash, classics, good and bad, and see how they do it. Just like a carpenter who works as an apprentice and studies the most. Read! William Faulkner

I took a number of stories by popular writers as well as others by Maupassant, O. Henry, Stevenson, etc., and studied them carefully. Louis L'Amour

I would tell the students to make their characters want something right away even if it's only a glass of water. Characters paralyzed by the meaninglessness of modern life still have to drink water from time to time. Kurt Vonnegut

There are no laws for the novel. There never have been, nor can there ever be. Doris Lessing

The task of a writer consists of being able to make something out of an idea. Thomas Mann

The difference between reality and fiction? Fiction has to make sense. Tom Clancy

No tears in the writer, no tears in the reader. No surprise in the writer, no surprise in the reader. Robert Frost

"I write as straight as I can, just as I walk as straight as I can, because that is the best way to get there." H.G. Wells
© Wendy Robertson



Tuesday, 12 February 2013
Put Yourself Through
My Fact and Fiction Workshop
(This workshop was developed with writer Hannah Juby who edits articles and university theses, We thought that editing fact and fiction had much in common and developed the workshop with this in mind.)
The Process
Micro-editing
- examining text line by line, word by word, to ensure accuracy, flow, clarity and style.
Macro-editing
– considering the
text in terms of structure, purpose (is it clear what the text is trying to achieve; does it achieve this?), development of argument/story, appropriate connections, clear communication, appropriate evidence/details, style, etc.)
Amendments may be written:
·
onto a hard copy of the document;
·
inserted on-screen into an electronic version of the document, using a programme such as 'Tracked Changes' on Microsoft Word.
·
notes on a separate piece of paper, rather than having crossings-out etc. on the document itself.
Before you begin editing, quickly read through the whole document.

Keep a clean copy

of the chapter whether hard copy or electronic, and create a new copy on which to make notes, suggestions and corrections.

On hard copy

, always make remarks etc. in pencil rather than in pen. (Still amenable to alterations) .

On-screen

, using a programme like 'Tracked Changes' enables you to see all insertions and deletions. The changes aren't final until accepted or rejected by you in the final copy.
You will be more effective in editing your own work if you can make it seem strange to yourself, so that you can be more objective about it. A good way of doing this is to leave it for some time before coming back to it. (This is not always possible, I know.)

Make a written summary

(or footnotes/comments in an on-screen edit) as aide-memoires for the next stage. It might be useful to get someone else to do this for you if you are editing your own work.

Discussing the document

with an outsider will help you to clarify your basic concept or idea and the overall shape of the work.

Consistently mark up passages or sections which impress you and work well in the context of the text as a whole.

Then read each chapter

in detail using micro- and macro-editing, applying your preferred approach.
Where to begin?
The Story – Millie and Bird
was one of those stories that came almost fully realised, with a will of its own. I had no idea what I was going to say when I sat down to write it, no plan, nothing other than the first two lines which kept repeating in my head. I do know what inspired it though and that was a painting by Barbara Skingle –
Katherine and Millie
which I'd see for the first time in a poetry workshop several weeks earlier and which had made a real impact on me. Once I got the first draft of the story down I edited it a LOT. Editing is as important as the initial act of writing. A week or so later I entered it for the Costa imagining I wouldn't stand a chance – and well – you know the rest! But that wasn't quite the end of it. Millie and her sister Isa, their mother Kitty, their neighbour Jonty, others too, wouldn't leave me – they insisted I write their stories and I'm still writing them…
The Costa – Our taxi pulled up outside 16 Bury Street, St James's – Quaglino's puckered up its hot red lips and beckoned us in. If I was nervous before I'd started out, I was on the point of fleeing. But there was no going back now, we'd met Bud and Bud had directed us to the mezzanine and then down to the crowded floor below. Two glasses of pink champagne later and I was beginning to get the hang of it. I was even getting the hang of seeing my face everywhere on the flat screen TVs.
I found
Guy le Jaune
, another of the finalists. He looked like a man waiting for a reprieve. Our spouses swapped stories of our mounting panic earlier that day – and here I've got to break off and say a huge thanks to my spouse John, who put up with a lot and was just about the best companion to have along for the ride. To Guy too (only joking above) and Patricia – it was great to meet you and I hope we stay in touch. It was good to meet the other finalists : Shelia, Sally, Chioma – and Angela we missed you.
To my mind any one of the six could have won.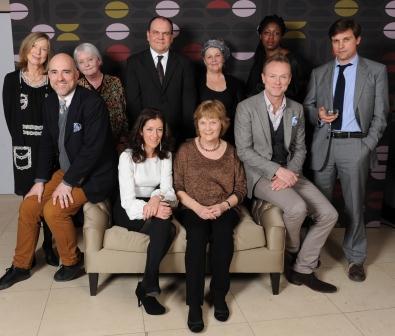 We met
the judges
around the couch.Pre-announcement.They were kind. They were generous; all the Costa people, esp Bud, were very generous. But when Gary Kemp – man of such talent, and I'm talking words not songs – shook my hand and told me my story was 'very special' I wanted to 'dye my hair orange and don a turkey-foil jump suit'*. I was a starwoman and it was shortly to be confirmed. Those words that still keep rolling round in my head '
And the winner of the 2012 Costa Short Story Award is Avril Joy for Millie and Bird..
.' Photographers shouted my name like I was some kind of celebrity. Jenni Murray congratulated me. I went into shock. I stayed there. My lipstick faded but my smile stuck. After that there was only one thing for it and that was to hit the champagne.
Me
– I've had so many texts, emails, tweets, cards and messages of congratulations. My house is full of flowers. I've tried to reply to everyone but if I've missed anyone I'm sorry, it wasn't intentional. If you voted for me thank you so much. If you didn't but would still like to read the story
you can do so here
. London was great. Quaglino's was outrageous but I'm glad to be back home in the North East. At my desk and writing.
Thanks to Costa and congrats to all finalists on the night.
* Gary Kemp's brilliant autobiography – This Much I Know